JS60, the new suv-style Ligier JS60
A new model is joining the Ligier range: JS60 Chic! A whole host of new features and innovations have been built into its design, setting it apart from its predecessors. A new design blending comfort, style and safety for a driving experience like no other – from 14 years of age.
Ligier JS60 : an AM Licence SUV
Not only do the JS60 Chic's new features make it a premium SUV, but it also sports advantages that set it apart from a conventional AM licence car, as well as a design inspired by the top makes of car.
New 15" BLACK DEVIL alloy wheels, metallic grey and glossy black two-tone diamond-effect finish, have been designed to offer outstandingly smooth road handling. The interior look has been crafted with a graphite grey metal theme and chic, haute-couture upholstery (black leather look, bracelet-like design, perforated leather and white overstitching).
The front and rear headlights, inspired by the Porsche design, are exquisite gems. With the brake light and built-in light signature, the full LED effect is both visually striking and safe.
The multimedia equipment in the JS60 Chic embraces even the doors: built-in speaker, new design and interior of doors in reference to Audi and Volkswagen.
On a final note, space is no longer an issue as there is maximum loading volume. The loading threshold is at the lowest level, freeing up seamless access to the rear panel. There is also a boot divider to optimise your loading organisation.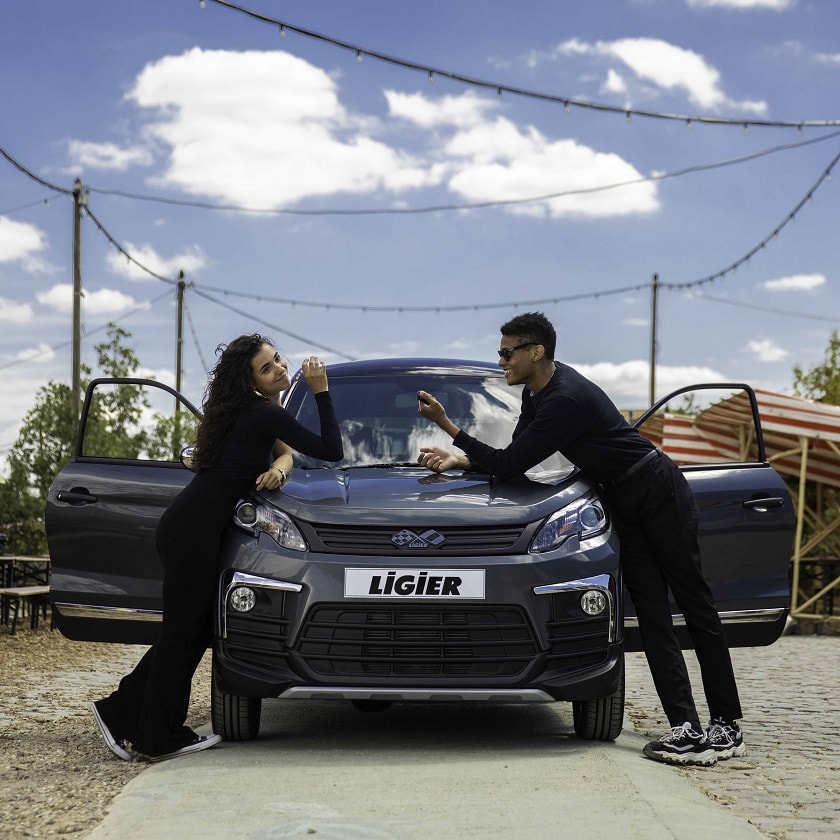 JS60, Ligier's new car with more sleek, more elegant and chic all over
Equipped with front and rear disc brakes like its predecessors, the JS60 Chic continues to guarantee your driving comfort and safety. Not only that, but it has a dual windscreen wiper guaranteeing the best and most effective wiping capacity on the market: 85% of the windscreen for unbeatable visibility!
The JS60 Chic is equipped with a groundbreaking multimedia system: Bluetooth MP3/RDS car radio, two high-quality speakers and a reversing camera.
JS60 is available in metallic pearly white, intense black, metallic graphite grey and metallic Toledo red.
Check out Ligier's latest model, the JS60 now!